GEOTHERMAL HEAT PUMP
WATER-air
Individual Zoning. Easy!
Variable temperature control right at the source. Yes, it's possible.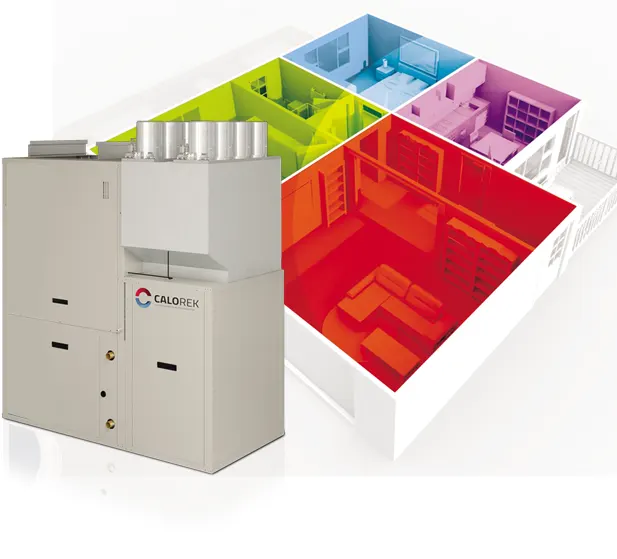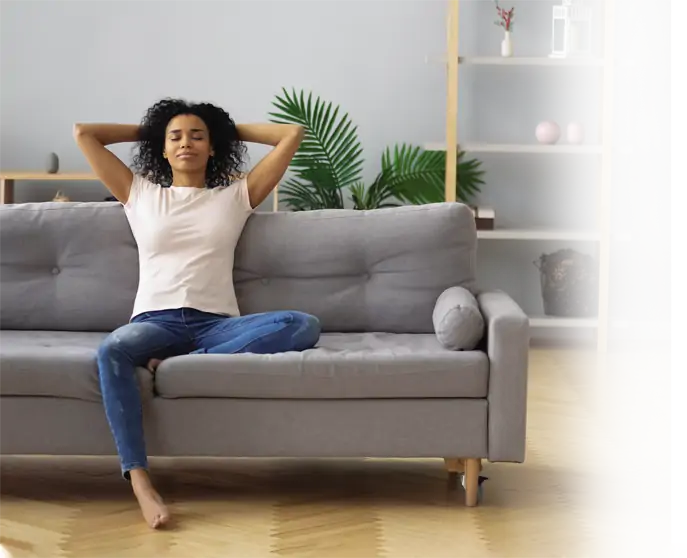 Perfect Temperature in Every Room
Everyone has their own body temperature. How often do you hear from a loved one, "I'm always freezing!" or another person saying, "It's still too warm in my room!"
Some rooms may just be warmer than others because the sun shining on that part of the home.
Whatever the reason, having the ability to regulate individual room temperature independently with a central forced air system designed with an integrated zoning system is just what your are looking for.
Now, everyone can get their own comfort zone!
The Calorek Solution
Independently controlling the temperature in every room is nothing new. But doing it the Calorek way is totally innovative.
By re-thinking the inverter-type compressor and independently controlling air flow to every zone from the furnace, you can now easily control multiple zones in your home or office without the need of a bypass damper. And because we can do this at the furnace, retrofitting is very easy without having to tear down all your ducting.
Features
3-ton geothermal heat pump with inverter compressor
Central Control Module Zoning Board (CVBM IV)
Servo motor dampers independently controled by the CVBM IV
ECM fan motor
4-inch duct manifold
1 thermostat per zone
On-site configuration of the suppy discharge port location to the left or right of the main module
Integrated modulating auxiliary heat (optional)
Fully functional with any industry 24V thermostat
Comfortably control up to 12 zones
7-year limited warranty
Applications
For new and retrofit forced air systems
Residential and commercial
Energy efficiency test results
Model WTA036 full-load heating mode COP: 3.46 - HRAI Certified
Partial-load heating mode - COP: 4.00
Average in heating mode - COP: 3.73
Full-load cooling mode - EER: 14.77
Partial-load cooling mode - EER: 24.20
Average in cooling mode - EER: 19.49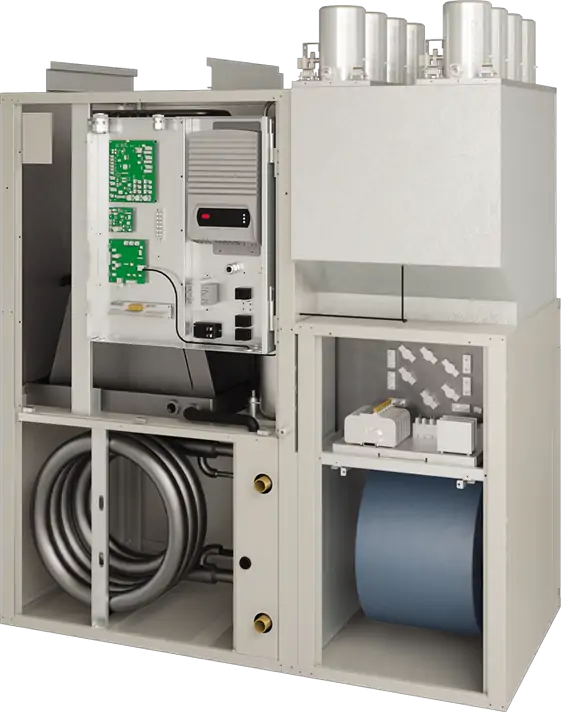 Central Control Module Zoning Boards can be daisy chained to control up to 12 zones independently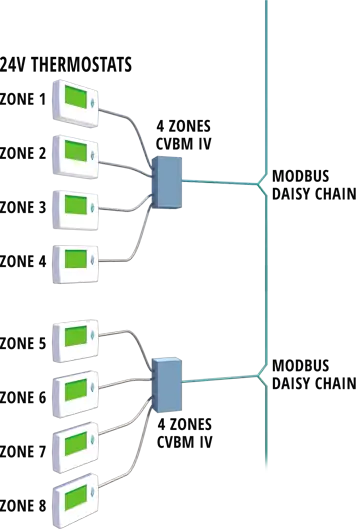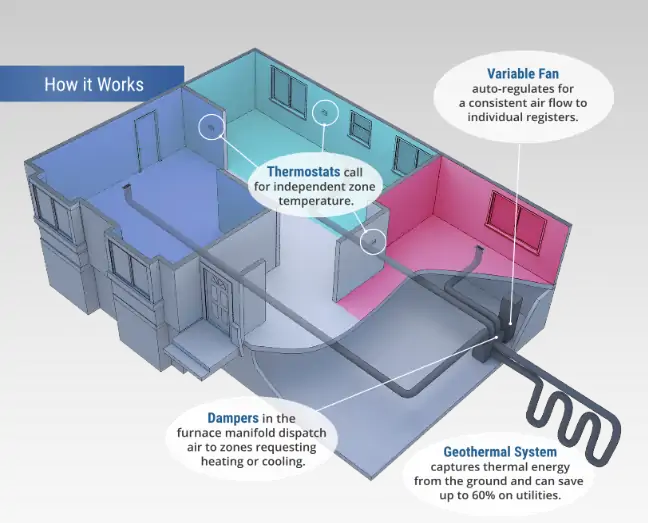 A Full Package Zoning Heat Pump Like No Other!
Designed as a complete "plug and play" integrated zoning system
No need for bypass dampers
Minimal configuration or design required
Air flow variation at the base unit
Up to 8 independent zones temperature control
Energy Star compliant
Integrated components with full compatibility eliminates call backs
Geothermal energy and zoning system providevery low operating cost
Easiest installation in its category for any type of new or existing home
Manual or automatic zoning in retrofit installation
Ultimate comfort in any application