HOCTM heat pump heating or air conditioning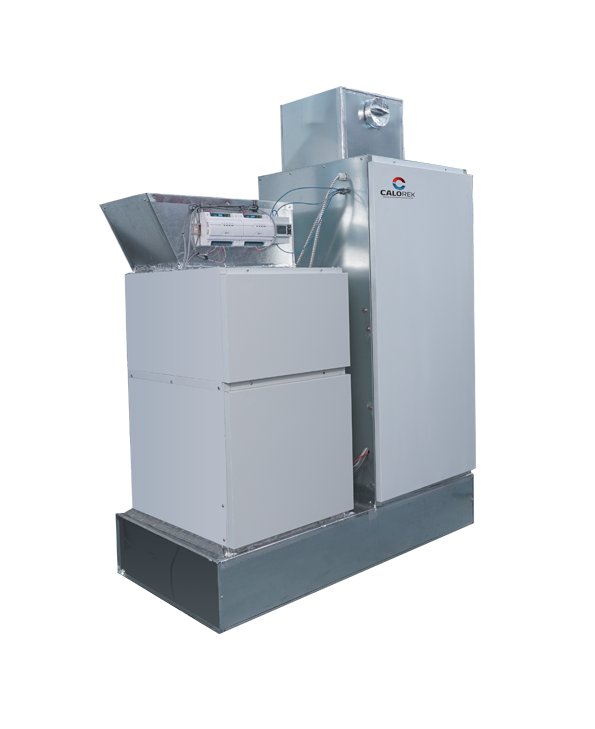 HOCTM heat pump
VAFTM
(variable flow system)
A system that allows you to heat or cool different rooms in your building at different temperatures using wired thermostats of your choice in each room. If necessary, we can offer you a wireless thermostat.
Uncompromising comfort for every occupant... and real energy savings
Refrigeration compressor and components located in the interior unit... Ideal for northern climates.
Variable heating and air conditioning capacity, depending on the number of zones in demand.
The adaptation of our CVBM IVTM system to the inverter type compressor and the ECM type ventilation motor allows for non-bypass zoning.
Electric auxiliary system available from 10 to 23 kW.
This system also allows feeding as little as one zone at a time, both in heating and air conditioning demand.
ZoneMax HOCTM air distribution.
HOC heat pump components
1 - Electric auxiliary heating cabinet for HOCTM system (optional)
For the coldest winter days, the electric heating coil inserted into an aesthetic cabinet is up to the task. With its modular design, the cabinet directly and effortlessly adapts to the CCV ventilation cabinet. For electric heating from 10 to 23 kW.
240 Vac power supply
Up to 5-step modulation
Simplified control connections
Duct in duct design
Note : You can replace the electrical elements with a hot water coil and its cabinet, fed by the system of your choice.
2 - Zone control
4-zone module receiver.
A WTC wireless thermostat per room for perfect control.
Reliable and efficient communication, thanks to the TDCB system.
3 - ZoneMaxTM distribution modules (choice of options)
Impeccable comfort for every occupant, thanks to an ingenious air distribution system. The ZoneMax air distribution system is your no-compromise comfort ally.
ZoneMax with zone control also guarantees optimal energy savings without sacrificing occupant comfort.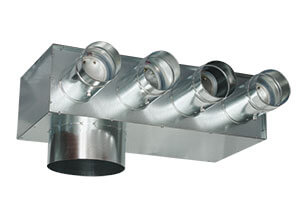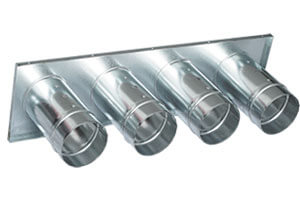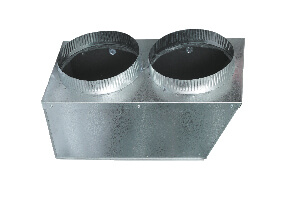 4 - Ventilation cabinet CCV1200-P
At first glance, the CCV ventilation cabinet seems to be like all the others, but it is one of a kind. It is designed and programmed to work with the ZoneMax system and thus adapt its capacity to the number of zones in demand.
The intelligence of the CVBM IVTM control ensures that the ECM motor will react to zone requests to feed the desired flow, up to 1200 CFM.
ECM motor controlled by CBVM IVTM technology.
Minimum energy consumption, without sacrificing comfort.
Modular design, to easily adapt to the electric heating cabinet.
Insulated cabinet.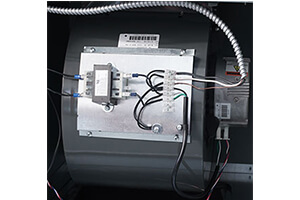 5 - Air conditioning and heating cabinet
Air condition and heat the desired rooms thanks to our CVBM IVTM system's adaptation to the inverter type compressor installed in the cabinet, therefore within, for better efficiency in cold regions.
3-ton capacity covering needs from 0 to 3 tons (36 000 BTU/hour).
The exterior Side discharge type unit is only comprised of a fan, a radiator and controls.
Very quiet.
Can handle 1 to 16 zones.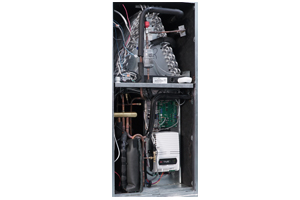 6 - Outdoor unit
The unit is extremely sileucieuse since the compressor is inside.
The exterior Side discharge type unit is only comprised of a fan, a radiator and controls.
Very quiet.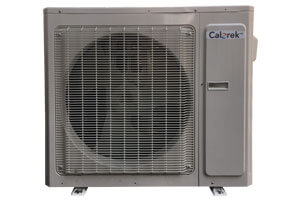 7 - Different heat or air conditioning pump options to maximize your air quality
You can adapt your heating or air conditioning system to: 2
An auxiliary system with a hot water coil and a boiler that allows choosing the energy source.
Humidification system.
Filtration system.
Purification system.
Air exchanger system.
Fresh air inlet system.
2. Systeme not offered by Calorek.
8 - COP 2,8 to 3,4 (house test)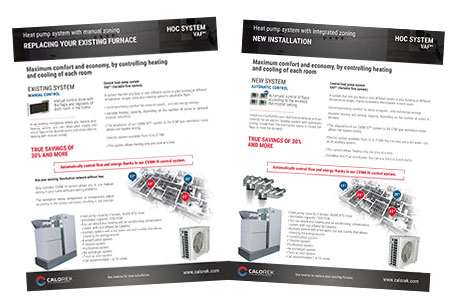 Download the brochure
Download the installation manual
Our systems' advantages
Only heat or air condition desired rooms.
Comfort reached faster.
Économie maximale.
Increased productivity
Easy installation, without bypass.
Several options available.
5-year limited warranty on parts
Information request