Geothermal inverter Heat pump EAU - EAU
Consistency. Simplicity.
Energy Efficiency.
Reliability. Versatility. In One Complete Unit.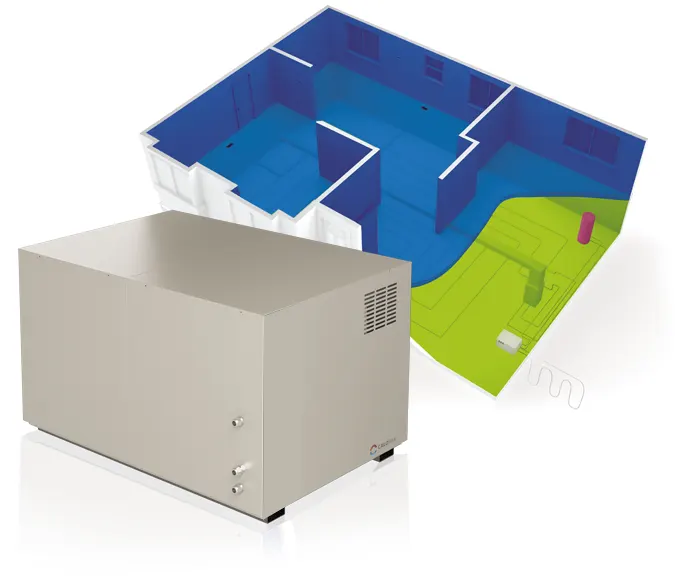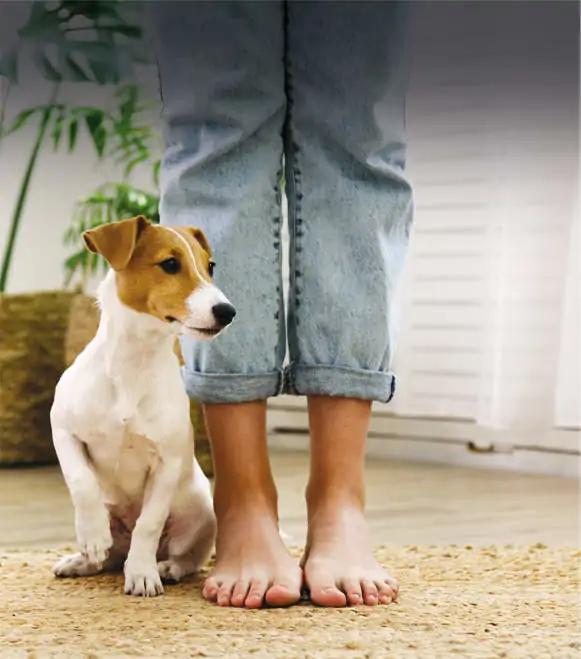 Engineered for Steadfast Performance
Whether you are looking to save utility costs or simply for ecological reasons, a geothermal heat pump is the right solution for you. Utilizing the earth's energy to heat or cool your home, the Calorek water-to-water heat pump is leaps and bounds ahead.
When our design team set out to make the next-generation water-to-water geothermal heat pump, they went straight to the source: installation and maintenance professionals. We did this to create a simpler, better heat pump which meets all your heating and cooling requirements while providing you peace of mind.
Where does this benefit you? The innovative Calorek water-to-water 3-stage geothermal heat pump can heat your radiant floor, heat/cool your forced-air system and provide a heat boost to your domestic hot water with consistent temperature all in one unit with less components.
Consistent Dependable Heat Throughout Your Entire Home!
The Calorek Solution
Engineered from the ground up for ease of installation full-package plug-and-play system, the Calorek 3-Stage Heat Pump with its high-efficiency inverter compressor provides these three ranges of temperature:
STAGE

1

- Heating for radiant floors
STAGE

2

- Heating or cooling for forced-air furnaces
STAGE

3

- Heating for domestic hot water
The fully integrated system – with its standard components already installed – dramatically reduces installation time, requires minimal configuration and provides you with advanced control of the heat pump's integration.
The advanced antifreeze system provides additional protection avoiding freezing coils and keeps the water pump running carefree.
No Buffer Tank Needed in most application
The unit's unique variable capacity inverter compressor and standard outdoors thermometer provides a more consistent temperature output with very little variations during transition times.
This also eliminates the need for a buffer tank which means less components and configuration and direct delivery to the various components.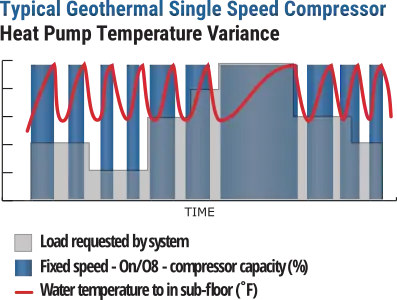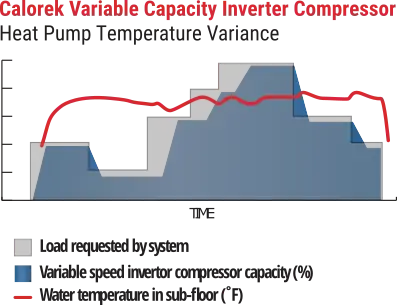 The Calorek Water-to-Water Heat Pump is leaps and bounds ahead for quicker, simpler installation and minimal maintenance recalls.
3-ton geothermal heat pump with variable speed inverter compressor
Coolant reservoir allows for optimal performance in a wide range of operating conditions
Modulating water valve and integrated controls on the source side
Integrated water pumps relays on the source side and load side
Advanced antifreeze system
7-year limited warranty
Integrated outdoor air temperature sensor that optimizes water outlet temperatures for radiant floor and air handler in heat mode as per outdoor conditions (optional)
Copper-nickel heat exchanger on source side for ground source or open loop applications (optional)
AHRI Energy Efficiency Test Results
Full-load heating mode - COP: 3.04
Partial-load heating mode - COP: 3.83
Average in heating mode - COP: 3.44
Full-load cooling mode - EER: 13.67
Partial-load cooling mode - EER: 21.08
Average in cooling mode - EER: 17.38
Applications
For new and retrofit water-to-water systems
Residential and commercial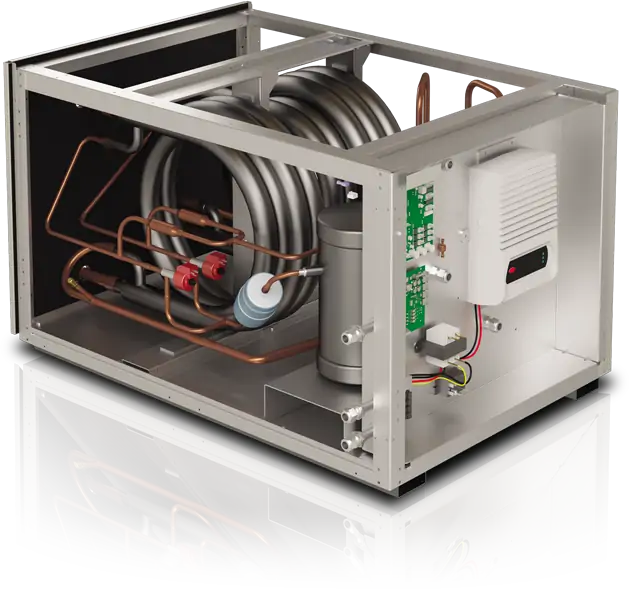 A Full-Package Geothermal Heat Pump Like No Other!
Designed as a complete "plug-and-play" system
No need for buffer tank in most applications
Minimal configuration or design required
Energy Star compliant
Integrated components with full compatibility eliminates call-backs
Geothermal energy provides very low operation cost
Easiest installation in its category for any type of new or existing home
Ultra-silent operation
Ultimate comfort in any application